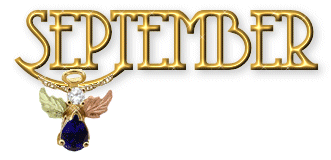 I can't believe that September is over. Summer is offically over and Fall is upon us. Pretty soon it will be snowing!!
I didn't read a lot books in September, but I read some really good ones. I discovered two new authors Colleen Gleason and Beth Cornelison.
Healing Luke by Beth Cornelison
~ 4.75 stars
Causing Havoc by Lori Foster ~ 4.5 stars
Breakfast in Bed by Robin Kaye ~ 5 stars ~ reviewing coming in November!
Rest Falls Away by Colleen Gleason
~ 5 stars
Rises the Night by Colleen Gleason ~ 4 stars
The Pregancy Test by Erin McCarthy ~ 3.5 stars
Not Quite a Husband by Sherry Thomas
~ 4.5 stars
How was your reading for September?