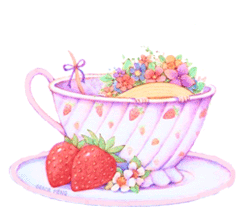 I've been awarded by the generous Desert Rose @ DeSert RoSe Booklogue. The Heartfelt Award.. the most heart touching award there is.
This is what the award means..
Do you reach for a cup of cocoa or tea when you're relaxing, seeking comfort, sharing a plate of cookies with family & friends?
You know that feeling you get when you drink a yummy cup of cocoa, tea ~ or a hot toddy?
That is what the Heartfelt award is all about feeling warm inside : ]. I wanted to create something to express that toasty feeling.
The Rules:
1) Put the logo on your blog/post.
2) Nominate up to 9 blogs which make you feel comfy or warm inside.
3) Be sure to link to your nominees within your post.
4) Let them know that they have been nominated by commenting on their blog.
5) Remember to link to the person from whom you received your award.
Here are the blogs I am giving this award to......
Mandi @ Smexy Books
Leontine @ Leontine's Book Relm
Amy @ Romance Book Wyrm
Dottie @ My Blog 2.0
Cindy @ Cindy Reads Romance